John Steed and The Avengers in books
Two Against the Underworld.The Collected Unauthorised Guide to The Avengers Series 1

Richard McGinlay, Alan Hayes and Alys Hayes, Hidden Tiger Books, 2015
(November 18, 2015)

Paperback and Hardcover

572 pages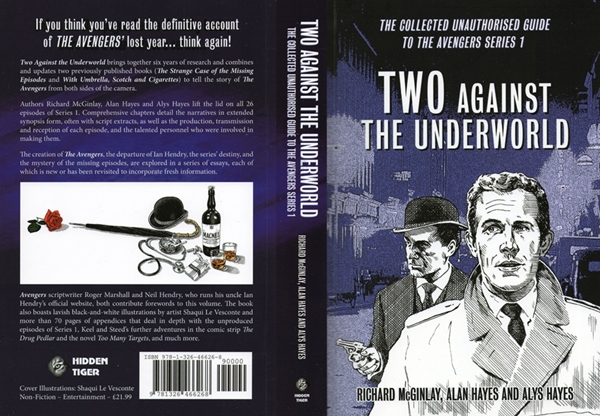 Two Against the Underworld.The Collected Unauthorised Guide to The Avengers Series 1 combines and updates two previously published Hidden Tiger books: The Strange Case of the Missing Episodes.The Strange Case of the Missing Episodes - The Lost Stories of the Avengers Series , originally published in 2013, and With Umbrella, Scotch and Cigarettes -An Unauthorised Guide to The Avengers Series, published by Hidden Tiger in 2014.
The new book is the result of six years of fine research of the authors Richard McGinlay, Alan Hayes and Alys Hayes, all three of them experts about the history and the making of the lost series one of the British TV series The Avengers.

It contains extended synopses of all episodes, often combined with script extracts, information about the production, the transmission on TV and receptions of each episode of series 1.

The book combines "the best of both worlds": rich in detail and lovingly prepared narrations and reconstructions of the lost episodes that enlight your imagination and at the same time a lot of information about the making of the series 1 of The Avengers based on archive research, critical book analyzes and studies.

Avengers scriptwriter Roger Marshall and Neil Hendry, nephew of actor Ian Hendry (Dr Keel), contributed the foreword to the book.