The chameleon with a bowler hat.


John Steed is a "sly, cunning, devious, scheming" and mean man, who breaks "the rules faster" than anyone else, who doesn't believe in rules anywhere, but will never break some rules, who never fights fair, uses ever dirty trick, can fight like a cad, who is brutal and has the "tact of a rhinoceros" (Mrs Gale in The Golden Eggs!), a man who's a "slave driver" (The Gilded Cage), who's always manipulating, a sarcastic, an unscrupulous and cynical man (Conspiracy of Silence) - all in all an enigmatic person, who justifies whatever method to be successful.

Or is he the dark handsome stranger, the old fox, a horse and dog lover, a gentle man, "educated, charming, cultured" old Etonian, officer and perfect charming gentleman, most trusted by his superiors, dedicated, the hub and heart of the organization he's working for, loyal and resolute, incorruptible, devoted to Queen and country?
A man who is capable of killing without regret but tries to avoid the use of guns whenever possible even abhors them but keeps a revolver in his desk. A man who threatens to cut someone throat with a razor, but has the finest humor and gentleness for those he must protect, for his friends and those he loves.

"Steed is a man of many talents, many faces". (Man with Two Shadows)

It took his doppelganger five years to learn everything about the agent in Man with Two Shadows. Nevertheless, he is not successful in killing Steed.

Hidden beneath the surface of a man dressed in a dandified sartorial style and a smile, that often fooled his opponents, are way harsher aspects of his own personality because the agent John Steed is a tough and highly professional undercover man, who's Secret Service activities are hidden behind a wealthy and debonair man-about-town-facade.

True to his profession actually not very much is known about John Steed.

Steed works for an unspecified 'Department' or 'Ministry' (which one is never quite clear) but there is much to suggest that it is branch the Department of Defense, former War Office. He often works undercover and pretends to be an official of various other ministries, for example, the Treasury or the Ministry of Agriculture.
But he also takes other identities such as that of a businessman, historian, jewel thief, art collector, detached bachelor or a wealthy gentleman and many others. Mostly he uses his correct name, John Steed.
During the first and second series of The Avengers Steed had several supervisors, while in the following two seasons no direct superior appeared. And episodes such as Silent Dust or The Master Minds prove that he gets orders assigned by the Ministry. In the Tara King episodes Mother is Steed's boss while he obviously now takes himself a leadership position, and in The New Avengers, he obviously is the locus of Thomas McKay who's the head of the department Steed is working for.

While the Steed of the earlier episodes of The Avengers is apparently only one of many field agents (Man in the Mirror), assigned jobs on briefings with his superiors, he gets more important tasks during the following years. Obviously, many of Steed's colleagues get killed in service. John Steed is seriously injured several times during operations (Obsession, Dead Men Are Dangerous, Noon Doomsday), but he seems to be much more efficient and also luckier than others because he was able to escape the enemy after he got caught by the other side (Man with Two Shadows). As Charles says in that episode, he was the only agent who ever managed to do so.

A few years later, Steed takes significantly more important tasks and is active in planning, coordinating or conducting of meetings such as at NATO level (Two's a Crowd) or in the diplomatic sector (The Decapod, Death's Door), he is an advisor (They Keep Killing Steed) or is responsible for the safety of persons (Requiem) as the head of security during visits of foreign ministers.

Contrary to One-Six's reproach that Steed is a lone wolf (Man in the Mirror), Steed works with partners who often are amateurs. He only obtains professional partners in series six and The New Avengers, with Tara King, Purdey and Mike Gambit.

The partners with whom he works are mostly women: Cathy Gale, Emma Peel and Tara King; only Dr. Keel from series one was a male partner. There are other persons who worked together with Steed such as Venus Smith and Dr. Martin King, but they only cooperate for a short time.

For most people he's just "Steed", even his partners do not usually call him by his Christian name. There are very few people such as his friend Hal Anderson or Mother or Mike Gambit in TNA Sleeper who use his name Christian "John".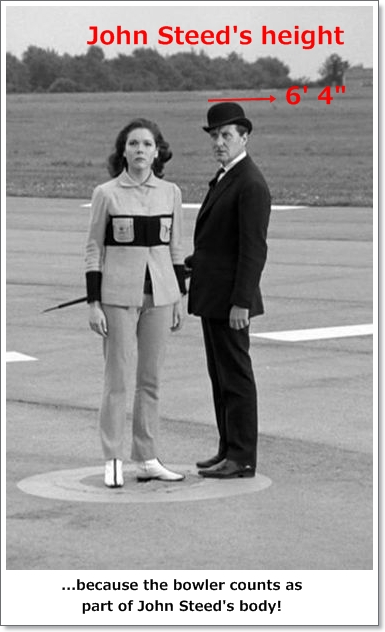 Size: 6.1 (1,855 m in TNA Complex); estimated 6.2 in Escape in Time
Weight: 175 Pounds (= 79,4 Kilogram; 85,729 Kilogram in TNA Complex), estimated 170 pounds in Escape in Time
Collar Size: 15 1/2 (Killer)
Socks: 9 1/5 or 9 3/4 (The Girl from Auntie)
Shoe size: 9 (Silent Dust)
Hat size: 7 1/2 ; Patrick Macnee's hat size: size 7 5/8 (auction information)
Hair: dark brown
Eyes: steel grey with a touch of green

Family status: bachelor, married his profession


"
The world's most eligible bachelor".
TNA Faces
The character of John Steed appeared in 185 of the 187 episodes of The Avengers and The New Avengers.
Only two episodes of Series 1 do not feature John Steed (but Patrick Macnee is nevertheless in the credits): Girl on the Trapez and The Far Distant Death.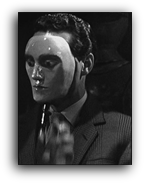 Analysis of the John Steed character or aspects of his character:


1.Lauren Humphries-Brooks analysed the Steed character in her essay "Silk and Steel: The Personalities of John Steed", in: Avengerland Revisited, Rodney Marshall (Ed), Out There Publication 2015, pages 166 - 191

2.A Red-Blooded Dynamic: Steed and Masculinity in The Avengers (2017) on Tumblr blog Feather Dusters at 400 yards

3.Disembodied Steed? (2017) on Tumblr blog Feather Dusters at 400 yards


Information from the episodes