World War II

During World War II Steed served in the British Intelligence Corps, which was responsible for gathering, analyzing and disseminating military intelligence, counter-intelligence, and security. The Intelligence Corps was founded in Summer 1940. In Death of a Batman, he says he was attached to the "' I ' Corps" which has to mean Intelligence.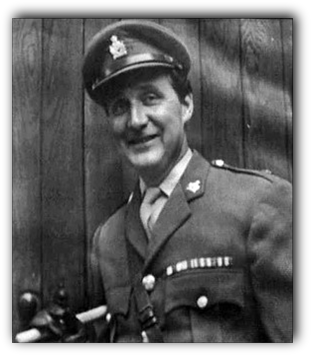 The cap badge of his uniform on the picture in the episode Death of a Batman proves that information and the uniform shows Steed in the rank of a Major. The photo also confirms that he gained the Military Cross (left ribbon) during WW II, which is mentioned in TNA Dead Men are Dangerous by Purdey. There are three other unidentified ribbons, maybe the outer one is the German-France Campaign medal ribbon.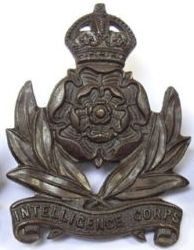 Photo of Major John Steed in
Death of a Batman
From left to right it could be:
1. The Military Cross, which is awarded for gallantry

2. The Africa Star, awarded for service in North Africa, Abyssinia, Somaliland, Eritrea, Sudan, and Malta between 10th June 1940 and 12th May 1943 inclusive. Also any sea service in the Mediterranean counted for the Royal Navy and Merchant Navy. The qualifying period was one day.
3. The Italy Star - for the Army service in the Aegean, Italy, Greece, Yugoslavia, Dodecanese and Elba between 11th June 1943 and the 8th May 1945. Also Sicily (11th June to 17th August 1943), Sardinia (11th June to 19th September 1943) and Corsica (11th June - 4th October 1943).

4. The France and Germany Star was a campaign medal of the British Commonwealth, awarded for service in World War II. Awarded for service in France, Belgium, Netherland and Germany, between D-Day and the German Surrender (6th June 1944 to 8th May 1945).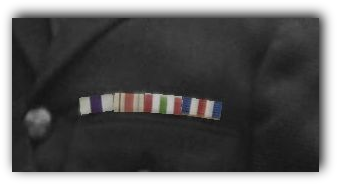 The Military Cross is mentioned by Purdey (Dead Men are Dangerous) as she's reading Steed's military files. He gained it for single-handedly taking a German machine-gun post.
Steed makes small talk about the Africa campaign and the attack of Bizerta in Esprit de Corps; he was a member of military tribunals in Germany (Game) and started on missions from the agents launching pad Hamlin to wherever it was, what can only mean the continent or the Mediterranean (The Hour Tthat Never Was).
As the rank of Major is usually gained after 8 years, Steed could have enlisted in 1939 or 1940 at the age of 17 or 18, so he could have been born between 1920 and 1922 - the year 1922 is Patrick Macnee's year of birth.
Paratrooping to wherever it was...
During the war he "spent a lot of time" at R.A.F. Station/camp 472 Hamlin (The Hour that Never Was) an "agents launching pad" (The Hour that Never Was) and started during war from there "on a plane bound for wherever it was" (The Hour that Never Was) - maybe to France.
He has flown Lancasters (bombers) during WW II (Dead on Course) and still owns a pilot licence during the Avengers (Dead on Course) and knows how to flight a helicopter (TNA Sleeper). It's odd that he forgot how to fly an airplane in TNA Trap.
Fanart:
Hamlin times - Captain "Cat-Eye" Steed
Fanart: Steed - Hamlin times
In Death of a Batman he tells his partner, Mrs. Gale, that he was in Munich in 1945 "keeping an eye on" an adjutant smuggling coffee beans and on people smuggling tubes of penicillin", but why was he still in Munich, which was part of the American occupation zone in Germany after June 1945? Towards the end of the war, he had become a member of several court martial tribunals, one of them against Sergeant Daniel Edmund (Game) for "playing the Black Market". His decommissioning date is unknown.
It's possible that he was a Japanese prisoner of war, because he mentions a prison camp, in which he was with his friend Bill Bassett in Take-Over - Nanking, where he was captured for at least six weeks, as he celebrated Christmas in February, but it's also possible, that he got caught as a foreign agent by the Chinese after the war and was brought to Nanking (maybe Nanking, Nanjing is supposed to be China). Another camp, Nisan, is mentioned in Room Without a View and Steed describes the conditions there like he knew them from first experience. Maybe Nanking is a pseudonym for the Japanese Prison Camp Changi?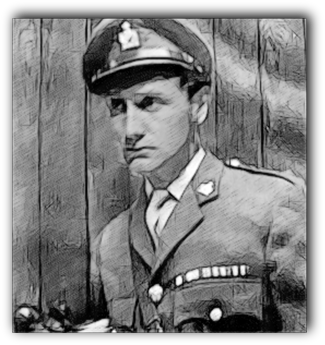 Fanart: Major Steed
Trivia:

In TNA Hostage Steed told Suzy that when he was twenty-one, he did a stint as a cowboy on a cattle drive in Arizona, but this would have been during the war, what is hard to believe.