Asparagus, quail's eggs, caviar and an unknown (but obviously strong tasting) cheese, maybe a Munster, a blue Stilton or something like it - that is Steed's favorite food that Mrs. Peel bought in Too Many Christmas Trees, when she intended to spoil him.

Steed and Mrs Peel crossed four counties for a good sauce hollandaise in The £50.000 Breakfast, so obviously Steed likes asparagus very much or he is fond of fish.
There are many episodes where Steed is eating something, preparing lunch or dinner or where he's talking about cooking or dinner, inviting someone for dinner.

The Golden Fleece: Steed spoiled Mrs. Gale with a dinner at Mrs. Kwan's Chinese restaurant, where they had a Peking Duck. Cathy is suspicious as she had learned from experience that whenever Steed wined and dined her like that it "always turned out to be a prelude of a ghastly experience".
An invitation for a dinner seems to be Steed's standard tactic to engage a woman for a job that she should do for him, as he invites an unknown woman at the end of Lobster Quadrille to a "little place down by the river" to talk about the job at the Bahamas.

Steed enjoys a dinner with good friends; he invites Mrs. Peel to a dinner at the coast in Epic and Tara to dinner in Super Secret Cypher Snatch, Purdey and Mike Gambit have a dinner with Steed at a restaurant in London in TNA Sleeper, he drives home from a dinner with Purdey in TNA Dead Men Are Dangerous and he had dinner in The Cock Pit near Eton with a girlfriend in The Midas Touch. And he has certainly style:He invited Mrs. Peel for a dinner at Montmartre in Paris - a gift for her birthday in Who's Who???

He also has dinner or dinner parties with friends at home, such as in Get-A-Way!, where you can see oysters on plates and he invited Tara after his auntie sent him a hamper with cold goodies in Pandora, he intended to have a nice dinner with Suzy in TNA Hostage at Steed's Stud.

In The Cybernauts Mrs. Peel said to Steed: "You don't have breakfast".
Obviously she did not know him very well at the time, because Steed had breakfast during the years with Mrs. Gale, whom he's even asking "what's for breakfast" (Man With Two Shadows) when he enters her flat and he insisted on "I need my breakfast" in Second Sight.

Breakfast episodes are:
In Dead on Course Steed and Dr King have breakfast at the inn, Steed has eggs, bacon toast and jam for breakfast and an "Irish coffee". In The Medicine Men Steed had to get up in a hurry and has toast with jam and coffee for breakfast, English and Continental breakfast is on the table in Built a Better Mousetrap. Steed and Mrs. Gale have breakfast in The Golden Eggs at his flat, Steed eats cornflakes (too in Small Game for Big Hunters) and drinks coffee with two and three teaspoons of sugar. Both have breakfast at the mansion of Sir Cavalier in Don't Look Behind You (a late breakfast with toast and jam and coffee). Breakfast with Mrs. Peel can be seen in The Correct Way to Kill, he's buttering lots of toast in False Witness but instead of eating them he's inviting Tara for dinner afterwards. Steed has breakfast with Ian and Alan De'Ath at Castle Death and is not happy with the salted porridge.

In his third flat he eats at home once in the episode The House That Jack Built, but it's hard to say what is on the plate. While he eats quite often in his first flat, he only did twice in the second (The Medicine Men and The Gilded Cage). Steed gets a milk delivery in False Witness and Mrs Peel brings the milk bottle to his flat in Too Many Christmas Trees.and The Correct Way To Kill.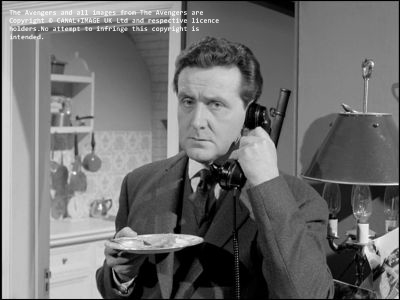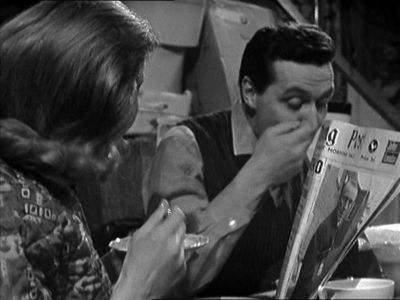 Steed is "cooking" for Mrs Gale, he makes a salad for her twice: in series 2 The White Dwarf and series 3 The Gilded Cage. It's almost a wonder that Steed's disguise as Sebastian Steve-Martin, who was supposed to be the chef de viande in Death à La Carte, worked, as Steed did not manage to cook even scrumbled eggs (he likes them pur) at Mrs. Gale's flat in The Big Thinker. And while Sebastian's specialities are supposed to be "Canard d'organe" and "Faisan a la langue docienne", eggs seems to be the only food that Steed is capable to prepare as he serves the emir in Death à la Carte poached eggs.
But nevertheless he did serve Mrs. Peel a dinner with turtle soup and oysters at her flat in The Winged Avenger and used his Rolls Royce's engine to cook the fillet for Tara in All Done With Mirrors.

Prince Ali honoured his guest Steed in Honey for the Prince with a rare delicacy - the left eye of a mountain rat, but Steed seems to like sandwiches much more. Therefore he is happy that only secret files, but not his cucumber sandwiches were stolen in Small Game for Big Hunters.
In series 4 episode Room Without a View Steed pretends to be Monsieur Gourmet, the Vice president of the Epicurian circle and is soon in gourmet's paradise as he's invited "dining gourmendising" with Mr Chessman.
Steed is testing the wedding cakes in The Murder Market.
Cooking with John Steed
In series 4 episode Death at Bargain Prices Steed's describes a Stilton recipe while he's flirting with the girl at the cheese shop.

Stilton Steak à la Steed
"I'll take half an ounce (of Stilton), one tomato, two egg whites, handful of chives, half an onion, and a squeeze of lemon. Pour in pint and half of Burgundy, add three pounds of best steak and leave to marinate".
Melt a little Stilton over your favourite steak or joint for a few minutes at the end of cooking.

Trivia

I tried this once: Let the meat marinade for at least 12 hours.
Umberto cooks for Steed and Cathy in Death a la Carte someting "special": Fish and chips.
Steed has a last meal in episode Esprit de Corps after he has be condemned to death by the court martial. He's not happy with the 1958 Champagne!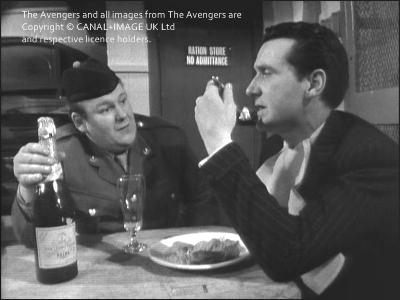 Cooking and food - a selection
The recipe for a perfect evening á la Steed

Steed in disguise as Sebastian Steve-Martin, chef de viande in Death à la carte said:

"A vintage burgundy, the company of a beautiful woman and a Boeuf Bourginion - that's my recipe for a perfect evening".

This however was the perfect dinner in The Winged Avenger:

A dozen Whitstable oysters
La tortue claire - turtle soup
Saumon d'écosse
1959 Chablis

Suprême de volaille à la Kieff
Rothschild 2éme Cru 1929

Crepe surprise
peeled walnuts
a tawny Port