The Avengers in Colour
John Steed & Emma Peel Deluxe Talking Action Figures

Product Enterprise Ltd.

Year: 2005 (December)

Price: £ 49,99

Size of figures: 12"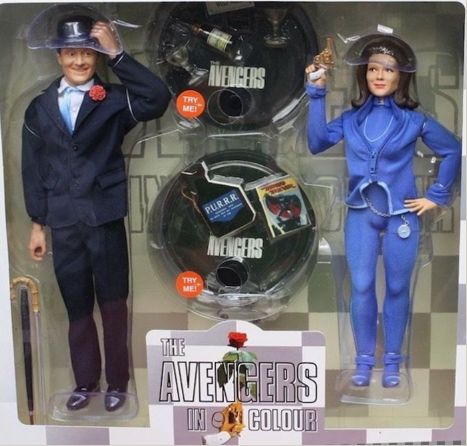 Photo - Flickr user MiskatonicNick

The website mctoys.com reviewed the action figures set. They also offer some high quality photos of the figures.

John Steed is dressed in a black suit (without a waistcoat) wearing a light blue tie and a red carnation, black Chelsea boots and a black bowler hat; the set also contains a black umbrella (with a brolly sword). The Steed doll looks a lot like Patrick Macnee.
Emma Peel's clothing is a blue catsuit with matching shoes and old England watch.

Some fans, however, enjoy to go to Steed's tailor and redress Steed with a three-piece suit, different ties or a rose instead of a carnation.
John Steed -
action figures and dolls



front, back and bottom of the box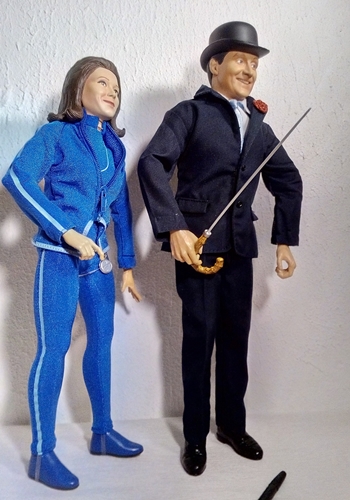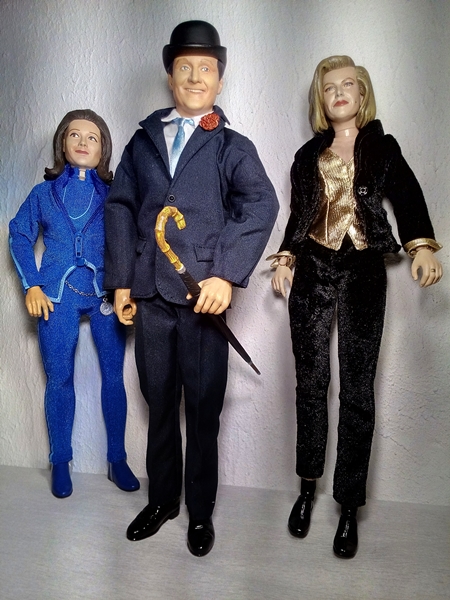 But if you would like to have a reunion of John Steed with his partner MrsGale: There also is a very good Mrs Cathy Gale action figure available.
The Cathy figure above not from an official The Avengers set, but from the James Bond 40th anniversary Goldfinger set.
Sideshow Collectibles
12" Figure
Honor Blackman
as
Pussy Galore
An early advert on the Enterprice Production website announced further action figure sets for Cathy Gale and Tara King (first screenshot from Summer 2005).
Unfortunately these figures were never produced.

Trivia
: Watch closley, they used the figures from set one for advertising set 2 (first screenshot)