3 Stable Mews - outside, stairways and corridor to the flat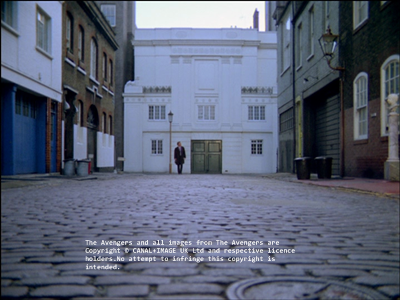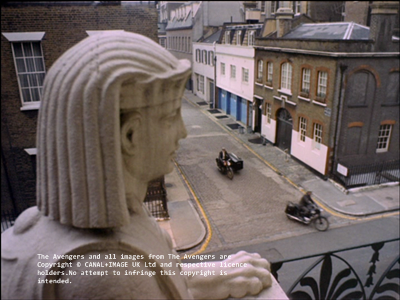 View from the white building no.10 Duchess Street towards 3 Stable Mews (17, Duchess Street) and Stable Mews (Duchess Mews, London). Steed's flat is located in the corner house on the right side of the street. Unlike today the house had no dormers in the 60s (at least at its front site). Therefore it is impossible, that Steed had rooms on a second floor unless they were all windowless.
The windows on the first floor towards Duchess Street were bricked, but Steed has windows and a Swiss door towards that street.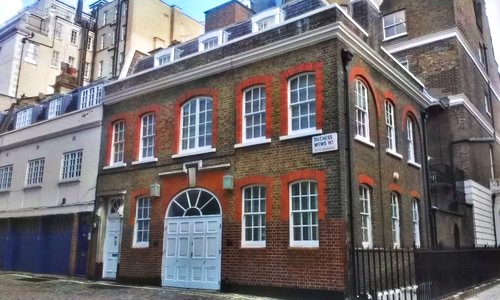 View over Stable Mews (Duchess Mews) towards the white house no.10 in Duchess Street in The Forget-Me-Knot. The house where Steed lives is the last one on the left side. In the 60s part of the brick wall was whitewashed.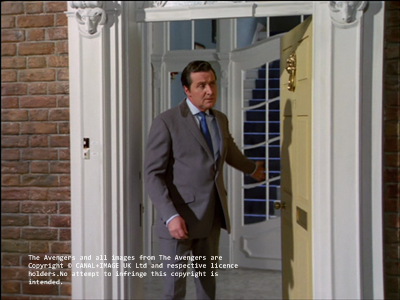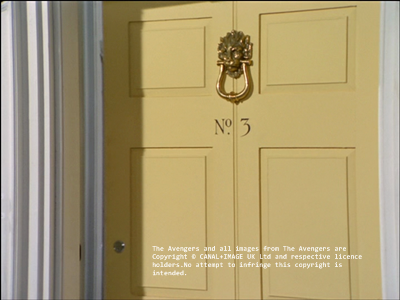 Steed opening the front door of the house in The Forget-Me-Knot. The beige door and the white doorframe do not match the original house, nor does the brick wall. The lion head door knocker, however, is typical for that area of London. Behind Steed, one can see the stairway hall which is separated from the stairway by a white glass portal. The white staircases are carpeted with a dark blue carpet and the wall is painted in a light blue colour, that matches the color of the corridor leading towards Steed's flat (the corridor is painted white in several episodes). The beige front door and the stairway are only seen in this episode.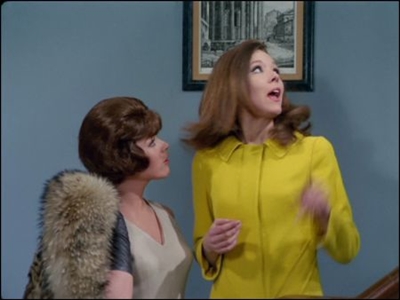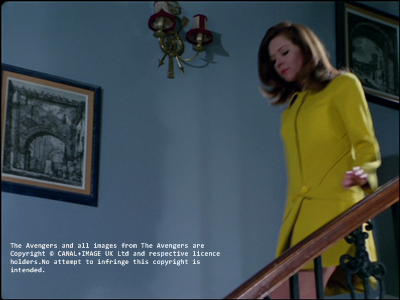 Left: Mrs. Peel leaving Steed's flat for the last time in The Avengers. She's on the stairways leading towards the front door and meets Tara at the end of the stairway. The lights at the wall match the light on Steed's mantlepiece inside the flat.
The scene reveals an interesting information about the house. Tara asks Mrs. Peel where "apartment three" is and Emma answers "at the top of the stairs". This has to mean that there are two more flats in the house.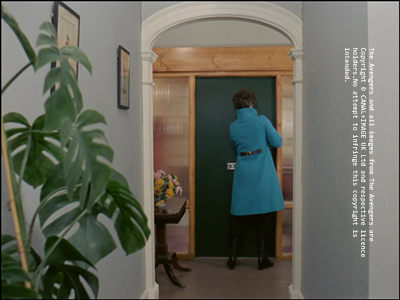 Tara at the entrance door to Steed's apartment in Requiem.
One has to go left at the end of the corridor and left again to reach the stairway.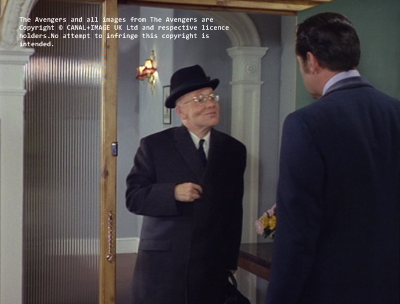 Legacy of Death
In a few episodes, such as The Correct Way to Kill, a door can be seen at the end of the corridor opposite Steed's entrance door. It would proof that there is at least one other flat at the same floor as Steed's, but in the most episodes there is only a wall instead of a door.

The Avengers and all images from The Avengers are
Copyright © CANAL+IMAGE UK Ltd and respective license holders.
No attempt to infringe this copyright is intended.

John Steed's Flats - No.4