There're two episodes during Christmas time in The Avengers. The first episode is Dressed to Kill (series 3), the second is Too Many Christmas Trees (series 4).

Obviously, John Steed is celebrating Christmas. There is a Christmas Tree in his flat twice, decorated with baubles, lametta and a few "typical Steed" Christmas Tree decorations.
And he intends celebrating a third in Take-Over, when he visits his friend Bill Bassett.

In his second flat the place for the Christmas Tree is left to the entrance door, at 4 Queen Anne's court the tree stands in the living room. While it's decorated in a traditional style with (red?) baubles and lametta in the third series, Steed had a very unusual "angel" on top of his tree in Too Many Christmas Trees. It is a "Sindy doll" in an outfit from 1963.
It's nice to see that Steed gets a lot of Christmas cards during the season. Most arrived by mail from bygone girlfriends, but he also got one from Mrs. Gale in 1965.
Mrs. Gale and Mrs. Peel got Christmas presents from Steed: Mrs. Gale an unknown gift, which she placed in her bedroom (Steed also got a present from her which is mentioned in Dressed To Kill) and Steed bought a tear gas pen for Mrs. Peel in Too Many Christmas Trees.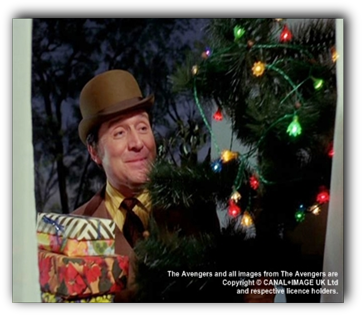 John Steed arrives at Bill Basset's home (through the window!) with an artificial Christmas Tree and many presents in Take-Over (series 6).

The Christmas celebration with his friend Basset is a very unusual one as the two men are celebrating (every year) Christmas in February, since they had been prisoners (of War?) during one of the Christmas season in their past.
In The Mauritius Penny Steed's housekeeper, Elsie is not surprised when she finds an unconscious John Steed on the floor of his living room.

Steed likes a party with friends such as in Get-A-Way! It looks like Steed sometimes is having pretty wild parties and apparently vast quantities of alcohol are consumed.
As Steed clean up in his flat after the Silvester party in Dressed to Kill, tons of empty bottles can be seen. Only in the tuba is something edible - a baguette.
It's a bit quieter at the older Steed's parties - less alcohol and less party games...
...on the other hand - he is warning his charlady (who is a woman of high moral standards) better not to clean the guest bedroom in the morning after the party.
Steed's "angel" is wearing sheer dark blue strapless bra and matching pants
Information about the complete Undie World set (Ref 12 S02) can be found here: http://www.oursindymuseum.com/
1963sindy.htm
Photo: Oursindymuseum.com