Trivia:

In early concepts of the TNA series Purdey was Steed's niece (Love It All), but the idea was dropped as well as the name "Charley" for the character.
In 1976/1977 John Steed worked for the first time with two partners, Purdey and Mike Gambit.

Both partners are much younger than Steed. Purdey is in her early thirties, and Gambit a few years older than her. They are professional agents and work for the Ministry. Steed is their superior, but the head of the department is Thomas "Tommy" McKay (TNA Hostage)
.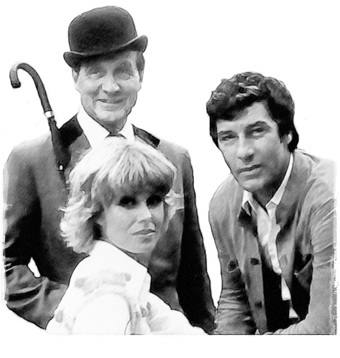 Purdey is 30 years when she works with Steed and Gambit; it is unclear if "Purdey" is her surname or forename.

Before she became an agent, Purdey started a career as a professional ballet dancer at the Royal Ballet, but in the end, she grew too tall for a professional dancer (TNA The Eagle's Nest).
The younger Purdey has been engaged with the Airforce officer Larry Doomer, but Doomer who was so obsessed with taking revenge for his father's murder that left her a short time before the wedding (TNA Obsession).
She probably decided after that to follow her father's professional footsteps, because she once told Steed that a spy had shot her natural father.
Purdey has a stepfather, who is a bishop (TNA House of Cards) and she mentioned an uncle Elly in the TNA episode Dirtier by the Dozen, a high-rank military officer.
She is a well-trained agent, tough, fearless, an expert in martial arts, intelligent, talented in learning languages (TNA Obsession) and she is quick-witted, but also charming and humorous, and sometimes she shows a more vulnerable side.
Mike Gambit started his career as a professional Race car driver before he joined the army, where he rose to the rank of major in the Parachute Regiment.
He left the regular army and was later a mercenary sailor for a while before he joined the Ministry.
Gambit is a master of Martial Arts (TNA The House of Cards) and an expert marksman.

He is not loud-mouth, but usually quiet (The Avengers Annual, 1978), however quite rough and ruthless if necessary, a man who shoots first and asks later.
Mike Gambit lives in a modern flat in London.