6,5 litre Bentley 1930
Series 6

From Venus With Love
Escape in Time
The See-Through Man
The Bird Who Knew Too Much
The Winged Avenger
The Living Dead
The Hidden Tiger

Series 5

Epic
Something Nasty in the Nursery
The Joker
Who's Who???
Death's Door
Return of the Cybernauts
The £50,000 Breakfast
You Have Just Been Murdered
Besides Mrs Peel only two people ever drove with Steed in this car. One was a colleague of Steed in Escape in Time and the other is Stanton in The Winged Avenger.


According to Michael Richardson's book Bowler Hats and Kinky Boots. The Unofficial and Unauthorized Guide to The Avengers (2014 ) the car was first registered in March 1930, exported to Sweden in 1984 and it returned to the Uk and got registered for driving in 2013. That matches the 6,5 litre Bentley.




Car history since 2014



October 2014

According to The Vintage Bentleys.org website he car was spotted at the East India Club Rally in October 2014.


April 2016

Vintage and Prestige Fine Motorcars, Essex, offered the vintage Bentley for sale.
You can find several photos of the car there and on the Vintagebentleys.org website.

1930 Bentley Speed Six Long Chassis Vanden Plas style Tourer.
Chassis number: LR2791A
Registration number: RX6180

The car offered by Vintage and Prestige Fine Motor Cars looks different to the car used in the Avengers because the colour of the Bentley is not green anymore.

"The Bentley Speed Six is finished in 'Midnight Blue' with mocha brown hides to the interior. A high quality blue mohair hood and side screens complete the look."
Source: Vintage and Prestige Fine Motor Cars

11July 2017

The car was sold by Vintage and Prestige Fine Motors for a price of Pounds 1,600, 000.00


August 2017

The buyer imported the Bentley to Switzerland. Due to the kindness of its current owner there are several new photos of the Bentley on the VintageBentleys.org website.



RX 6180

6,5 litre Bentley
1930

Speed Six Long Chassis Vanden Plas style Tourer

License Plate: RX 6180

Chassis no.: LR2791
Engine no.: NH2735
First owner: AG Turner

information: Vintagebentleys.org.


The Bentley in You Have Just Been Murdered and The £50,000 Breakfast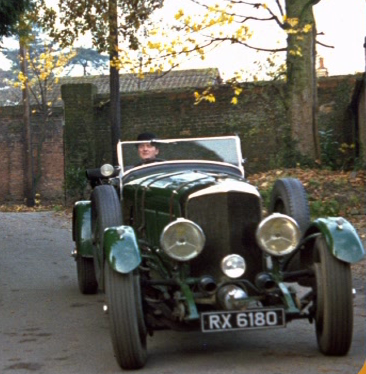 This is an interesting car as a few facts are known about the owners and the history of the car.
You can find the information on Vintagebentleys.org.
The owner of the car in the 60ths, a Mr Gooch from Sussex, had the Le Mans replica body made.
He lent the car to the studio in 1966/67

RX 6180 appeared in many episodes of series 5 and 6 of The Avengers.