Carnations and other flowers
Steed wears flowers in the buttonhole of his deposit, many times it's a carnation, which is the flower shown in the intros of series five and six of The Avengers.

Most of the time Steed is wearing red carnations, but there are also white carnations, roses, and other flowers.

Red carnations appear in: Two's a Crowd (2x), TNA Obsession, TNA Angels of Death, Stay Tuned, TNA K is for Kill, Part 1; intros of series five and six.

White carnations: The Undertakers, The Frighteners, The Sell-Out, Room without a View, The Murder Market.

Other flowers: Orchid in Death of a Batman, rose in Brief for Murder and The Danger Makers, astern in Small Game for Big Hunters.
Trivia:


Steed and flowers:

1. Death of a Batman, when Lady Cynthia is sending her "Sampson"(Steed) flowers to his flat and "she didn't think that the green carnation" suits him.

2. There is a vase filled with red carnations on Steed's mantlepiece in series 4 Two's a Crowd, Mrs. Peel takes one and put it on Steed's deposit.

3. Another vase with red carnations can be seen in Stay Tuned. Later Steed is surprised that the flowers have wilted.

4. There are flowers all the time in his tuba in series five and six, mostly dahlias or lilies.

5. Steed catches the bridal bouquet in The Murder Market.

6. Steed has some flower pots in his kitchen in Man-Eater of Surrey Green, Mrs. Peel receives a rose, which he has grown, she tips his nose with it.

7.There's a vase with two roses on the table when Steed calls Tara to invite her for dinner in Pandora.

8. In The White Elephant
,
he's starring at a single daffodil in a glass vase.

9. He's playing with a freesia in How to Succeed....At Murder.

10. There's a single carnation in a vase on his mantlepiece in several TNA episodes (set 1).

11. He picks flowers for Mrs Gale in Don't Look Behind You.

12. Bouquets in vases on the piano and in the white wall niche in the living room (set 3) in several TNA episodes.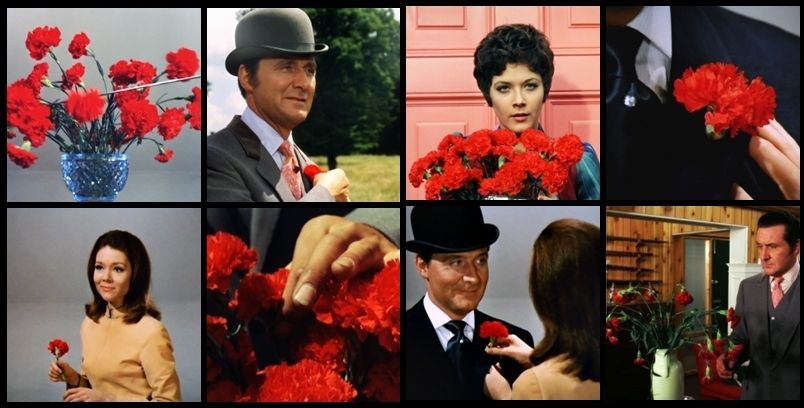 The Avengers and all images from The Avengers are
Copyright © CANAL+IMAGE UK Ltd and respective licence holders.
No attempt to infringe this copyright is intended.